With my daughter getting older and her being aware of the holidays i wanted her to be involved this Ramadan and make it feel special. We worked on various projects to prepare for the month like our holiday wreath. Another project we did was make eid gift ornaments to use as gift tags for all her cousins and friends. There are a few steps to this project so it took us a few days to complete.We had a blast working on them!
WHAT YOU NEED:
4 Cups all purpose flour
1 cup salt
1 1/2 Cups warm water
Toothpick
Cookie cutter/play dough cutter anything to make shapes
Paint
Paint Brush
Glue
Glitter
Decoupage sealer like Modge Podge
WHAT YOU WILL DO: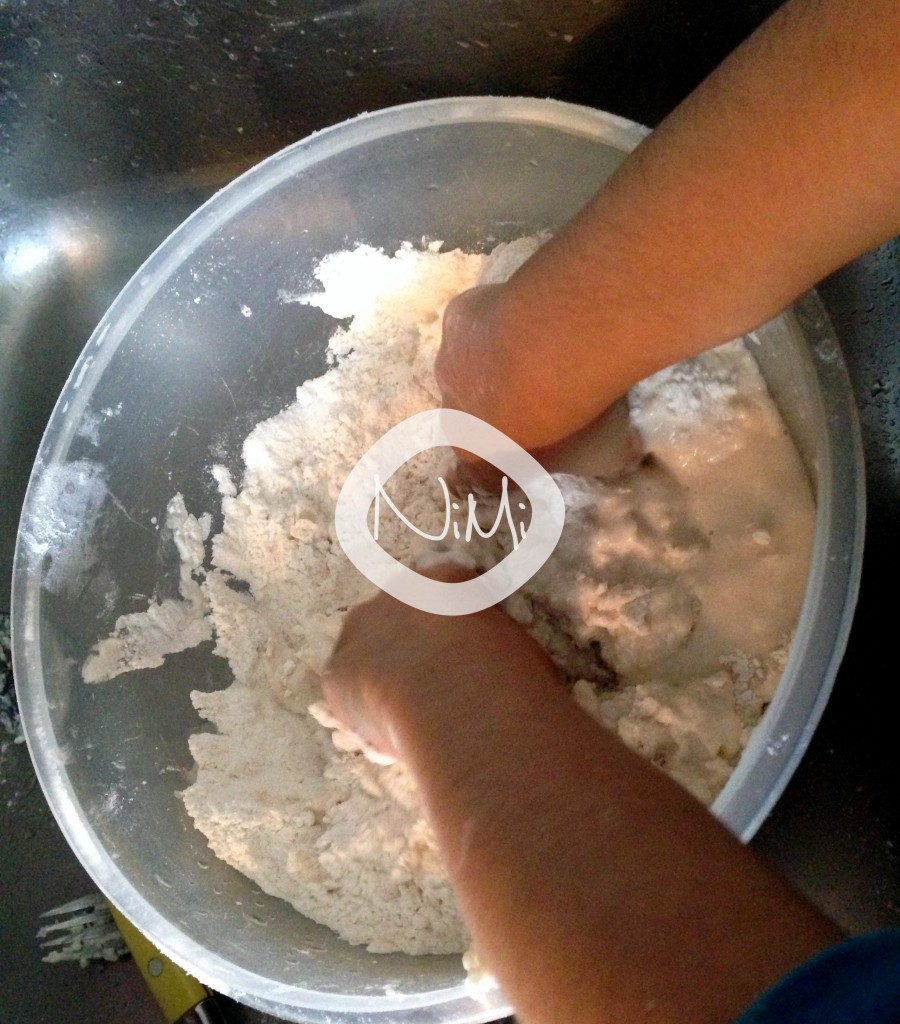 (1) Mix the flour, salt, and water. I had my daughter do this in the sink and she had some messy "fun". The "fun" didn't last long. Once she started feeling sticky i took over and finished it off. She's not a fan of getting dirty at all.
(2) Next i rolled the dough onto a floured surface and had my daughter cut out the shapes of her choice. As she was cutting she was going through the list of her peers and who would get which ornament on their Eid gift.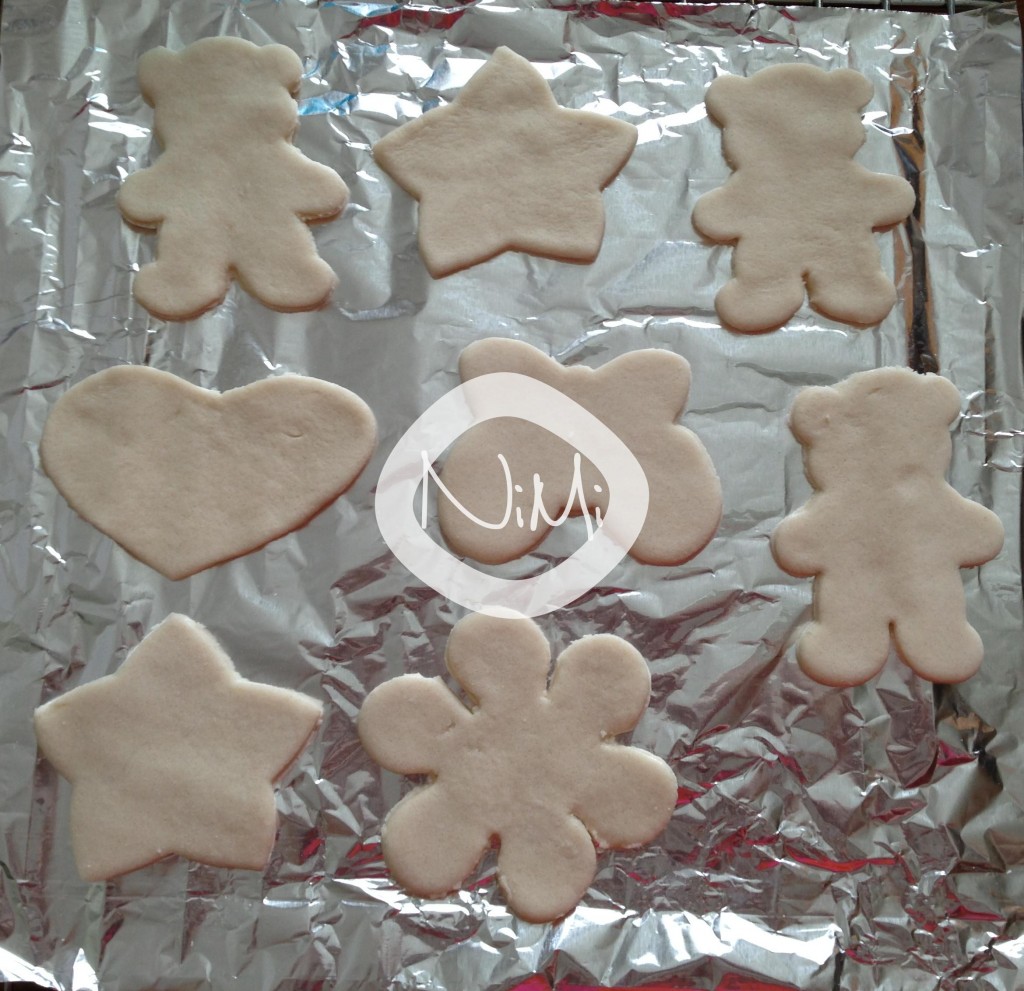 (3) Once all the shapes were cut i took a toothpick and poked holes into the tops of the ornaments.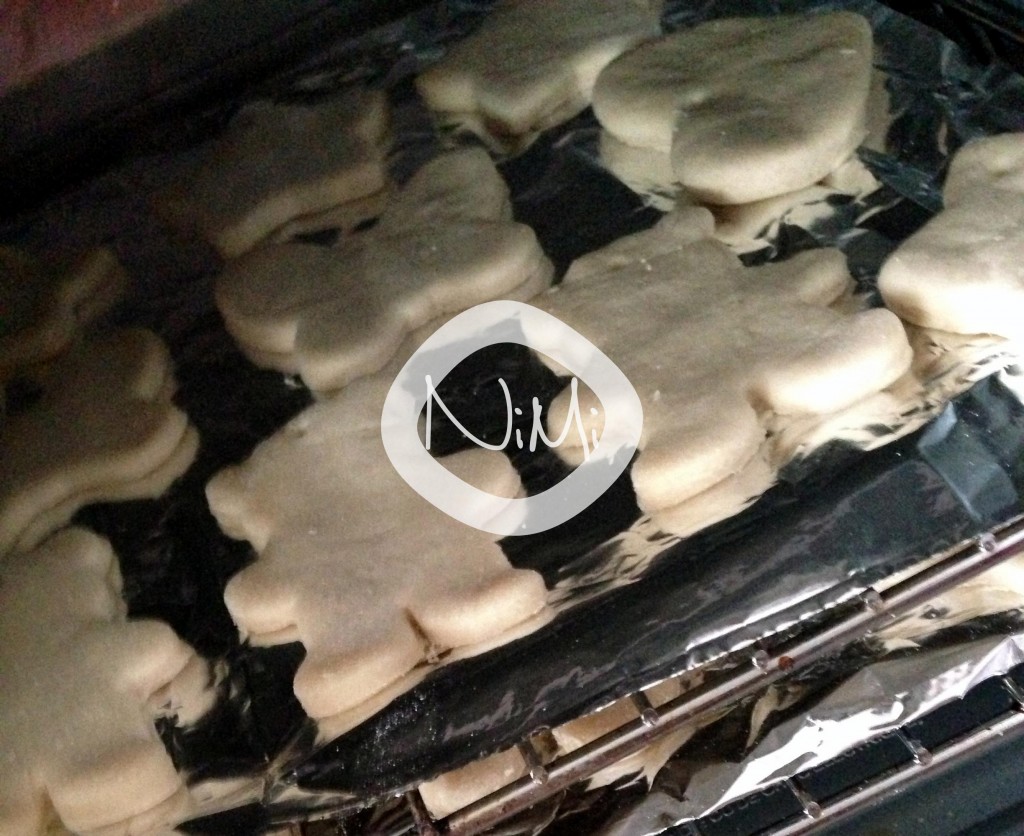 (4) Next i placed them into a 325 degree F oven and baked for an hour. Yours might require more or less time depending on their thickness. Just bake them until hard. Once ours was done baking i took them out and let them cool for a few days to make sure all the moisture was gone. Luckily it was a Friday so we had a nice long weekend of letting them sit.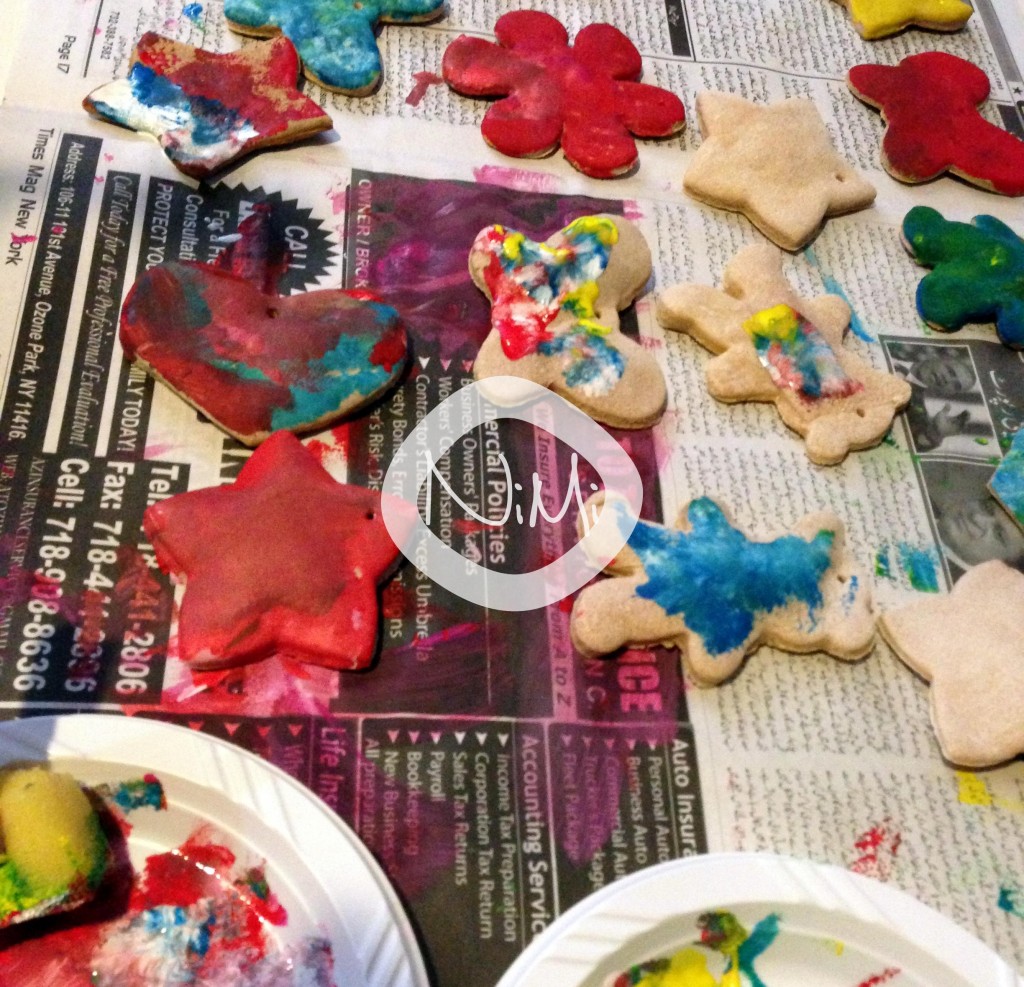 (5) This step is the messy fun my daughter enjoys since the mess is not on her :). She had fun painting them a mix of colors. This part took us a few hours between painting both sides and drying time. We would just step away and proceed with our household chores.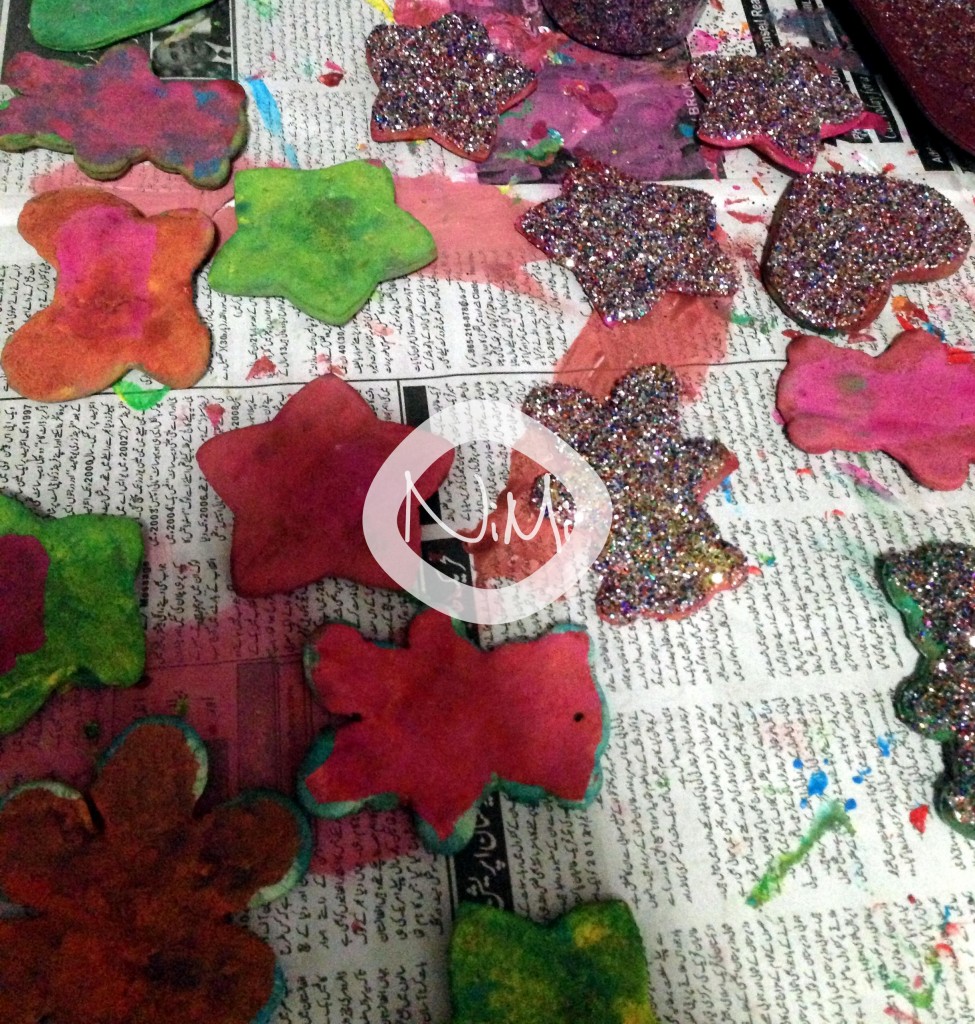 (6) Once the painting was complete i took a mixture of  1/2 water and 1/2 glue and had my daughter brush it onto one side of these ornament. Afterwards she sprinkled some glitter to get them nice and sparkly!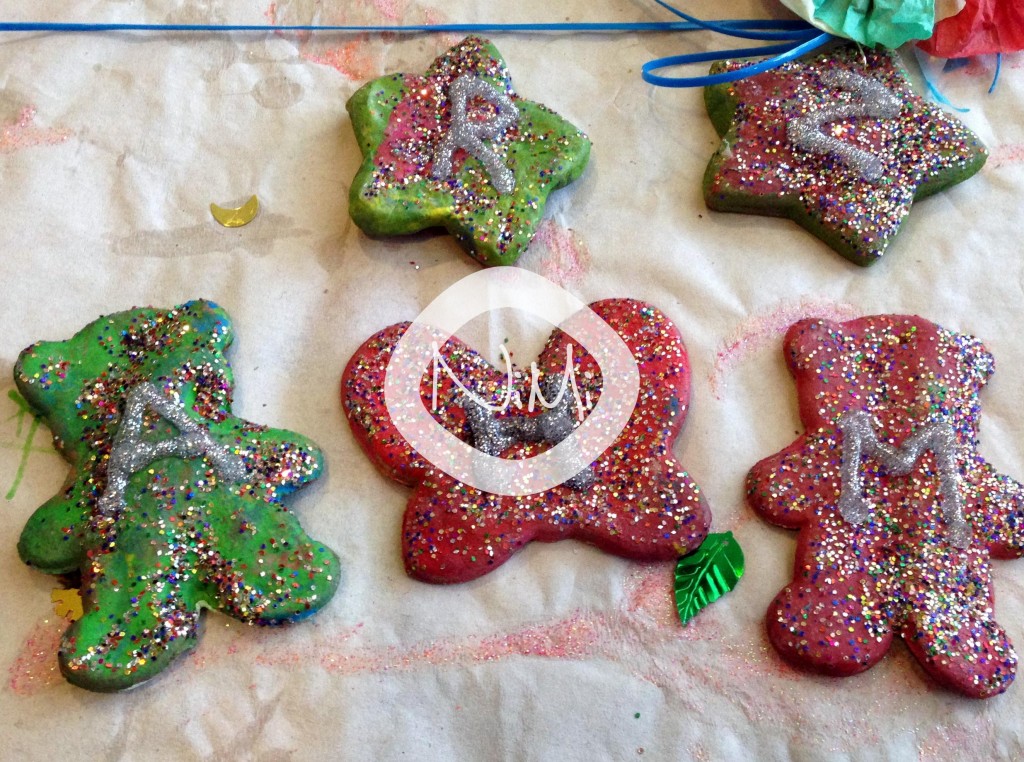 (7) This is as far as she worked on this. Next take a sharpie/glitter glue and write the childrens names/initial onto the glitter side. If it was a smoother surface i would have dotted the letters and have my daughter trace them, but with the sparkles it would have been too difficult for her.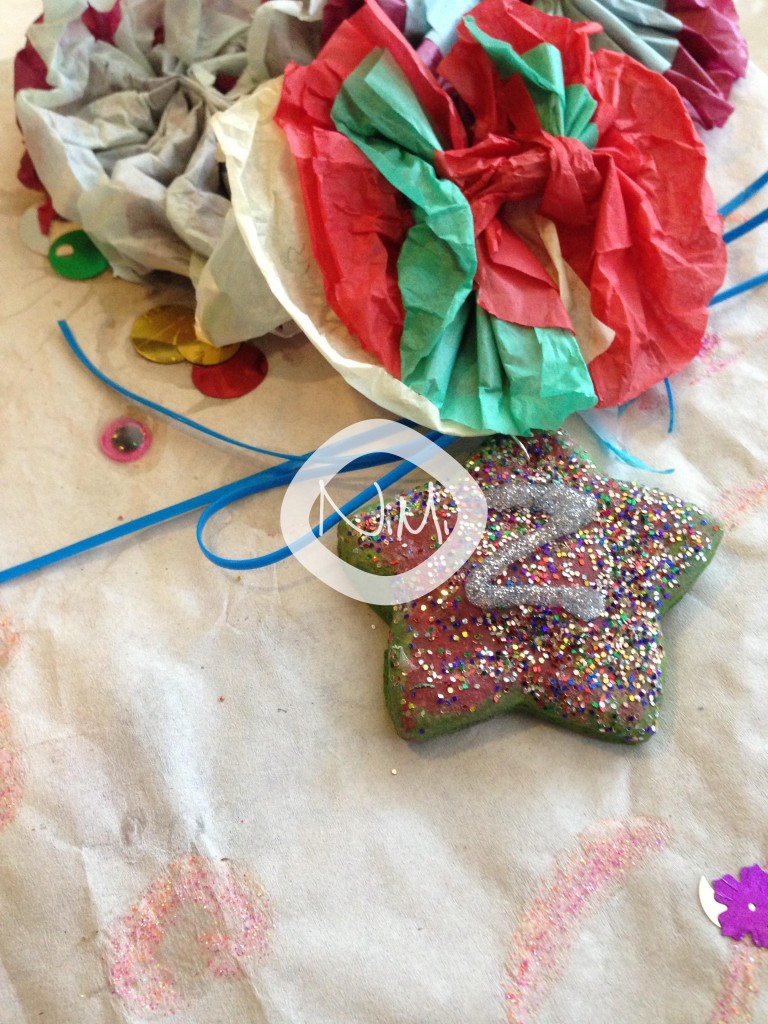 (8) After the names are written take a sealer and coat the entire ornament and wala you have personalized Eid Gift Ornaments for all the kiddies!
If you liked this post, I'd love for you to share it!