I made these super easy cookies on the whim one Jumuah with my 2 year old. By super easy i mean literally anyone can make them. My munchkin did all the mixing and topped these tasty treats off with kisses. The original recipe called for just the first 3 ingredients, but i decided on adding a dark chocolate delight to satisfy my craving, and boy was everyone glad i did! Really brought this cookie to a whole new level of yumminess.
4-Ingredient Chocolaty Peanut Butter Cookies
Prep Time: 3 minutes
Cook Time: 10 minutes
Total Time: 13 minutes
Yield: About 24 cookies
Ingredients
1 cup peanut butter
1 cup sugar
1 egg
24 dark chocolate Hershey kisses (more if needed)
Directions
Preheat your oven to 350 degrees F. Prepare your baking sheet.
Mix together the peanut butter, sugar and egg until smooth.
Form dough into round tablespoon sized balls. Place on the baking sheet at least 2 inches apart, and then add a kiss in the center squeezing out your dough balls slightly.
Bake for approximately 10 minutes, until the cookies are just slightly browned on the bottom.
Remove and let cool on the baking sheet for 1 minute, then transfer to a wire rack to cool completely.
*Do not over bake, they will firm up once cooled.*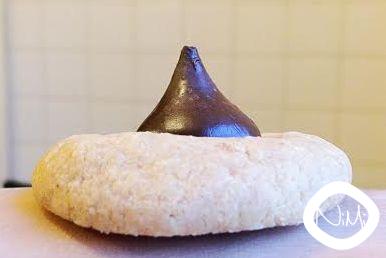 If you liked this post, I'd love for you to share it!