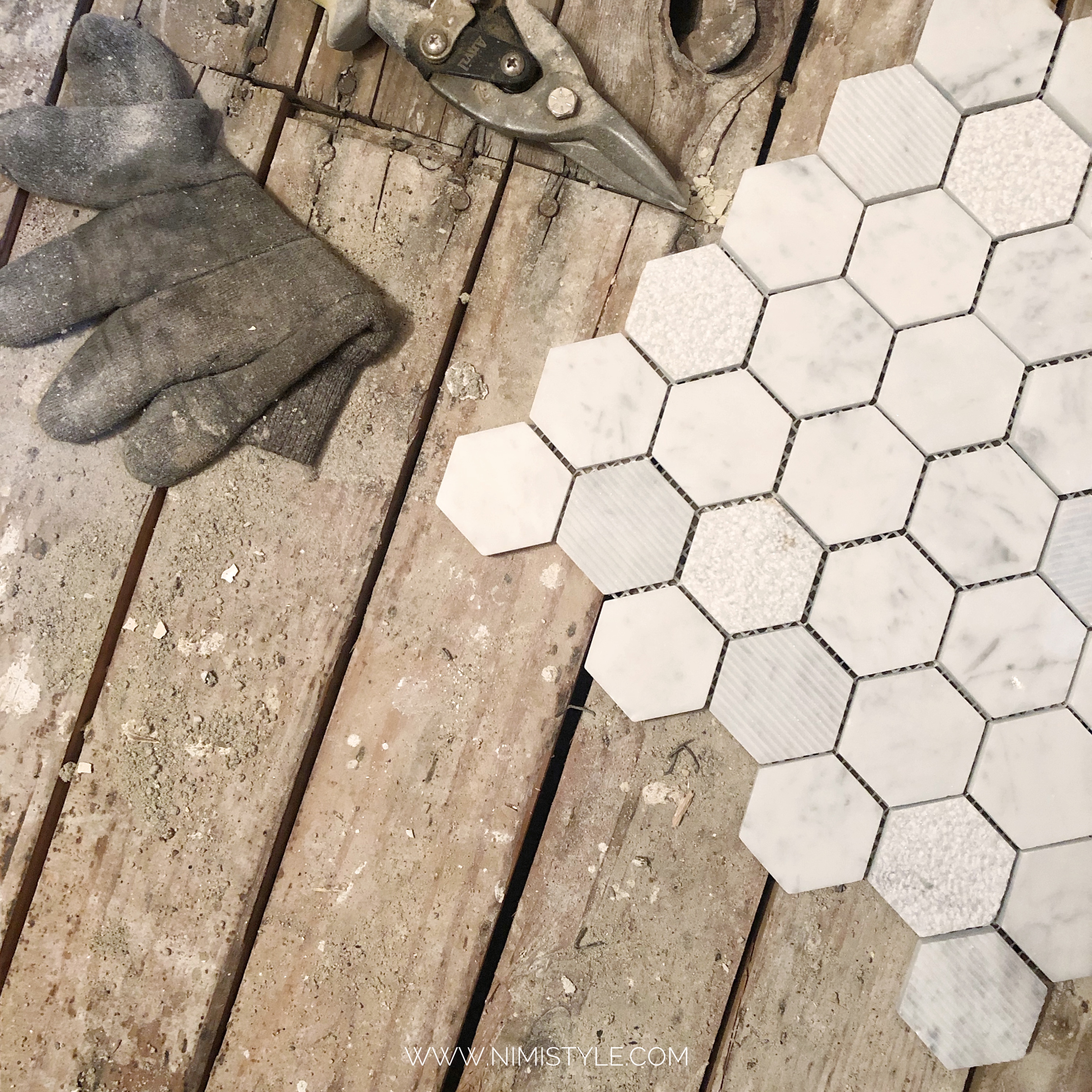 We've got our tiny master bath all demoed and ready to work on except there is a small snafu. I was originally going to back out of the challenge because well a 1 week vacation + 1 week of hosting guests + a weekend of filming in our house + 2 client projects is going to throw us behind by at least a month but then I thought who cares? It's the process and the progress that counts and that is what I love sharing it with you all so we shall continue. In the end eventually many many many weeks after the 6 weeks are over we can all enjoy the pretty pictures and my family will get to enjoy the pretty tiny bath. 😬
INSPIRATION + MATERIALS: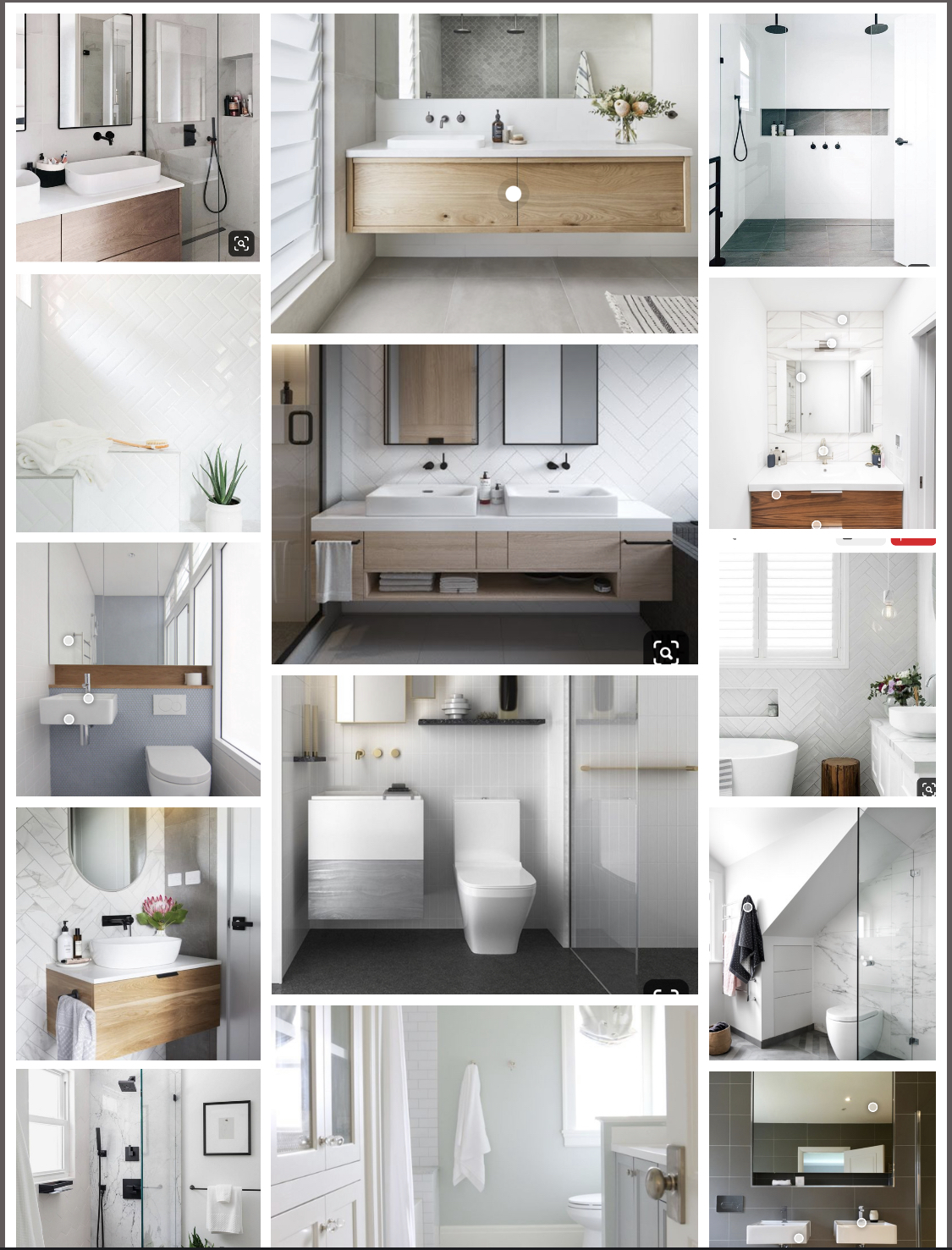 I want to make sure this  bathroom flows with the rest of my home and was minimal. I want to create the feeling of light and airyness with a subdued hint of luxury and I want that to all happen with the materials and textures in the room. Any color I bring to my home is through the decor which can be interchanged to what season i'm in and I don't mean just the weather but season of my life. Designing a space as a minimalist and highlighting materials and textures gives me the freedom to add pinks or greens or blues whenever I please and not worry about the color clashing with the space itself.  I'm planning on using lots of light rich marbles and light wood and even some jewel tones as the base of this room and then add in the fun touches alllll the way in the end when it's time for adding functional decor. Full disclaimer my projects morph and change as we work on the space and I notice our needs and the look changing so this is only the first of my materials list with many revisions to come.
PROGRESS: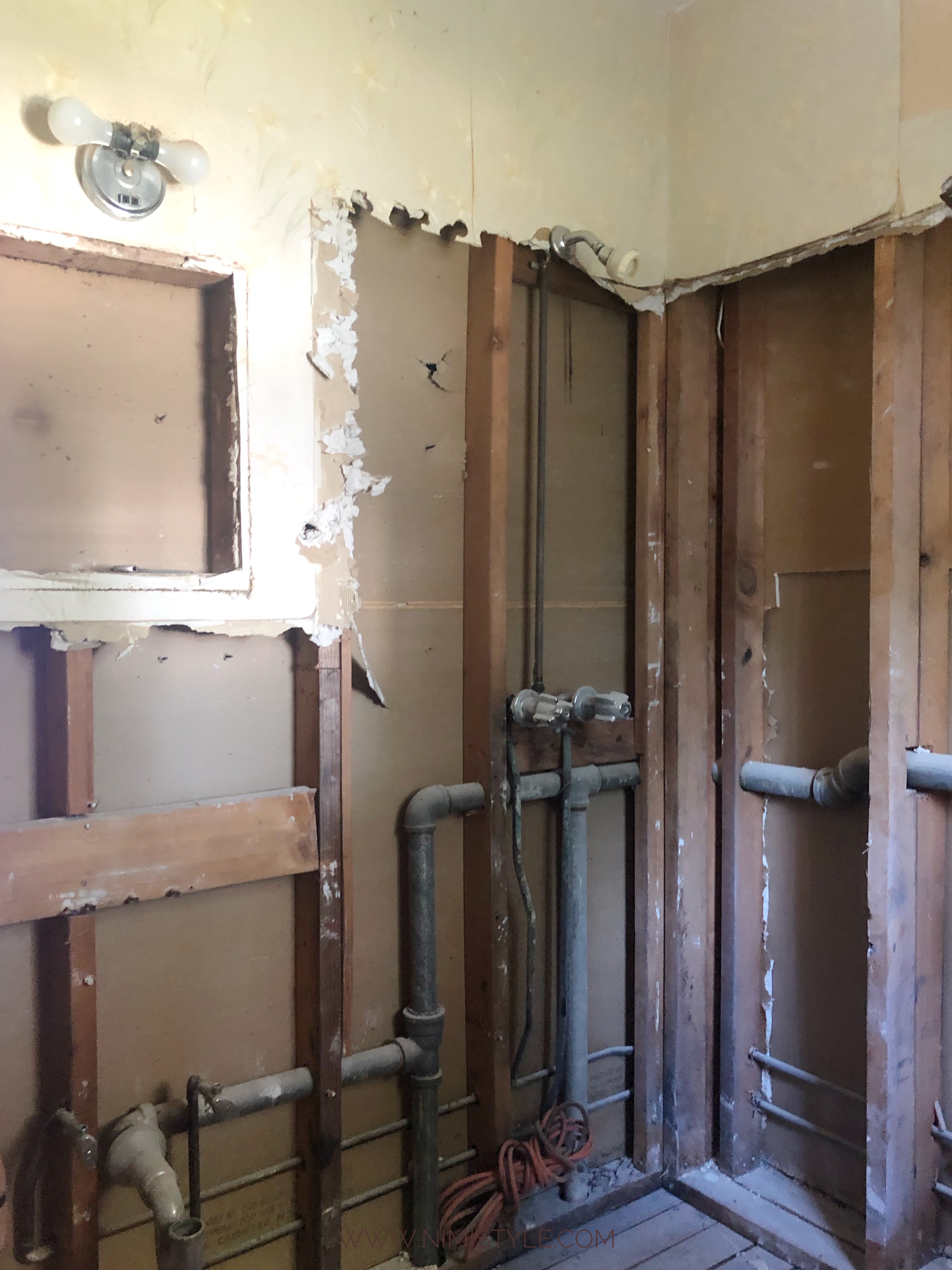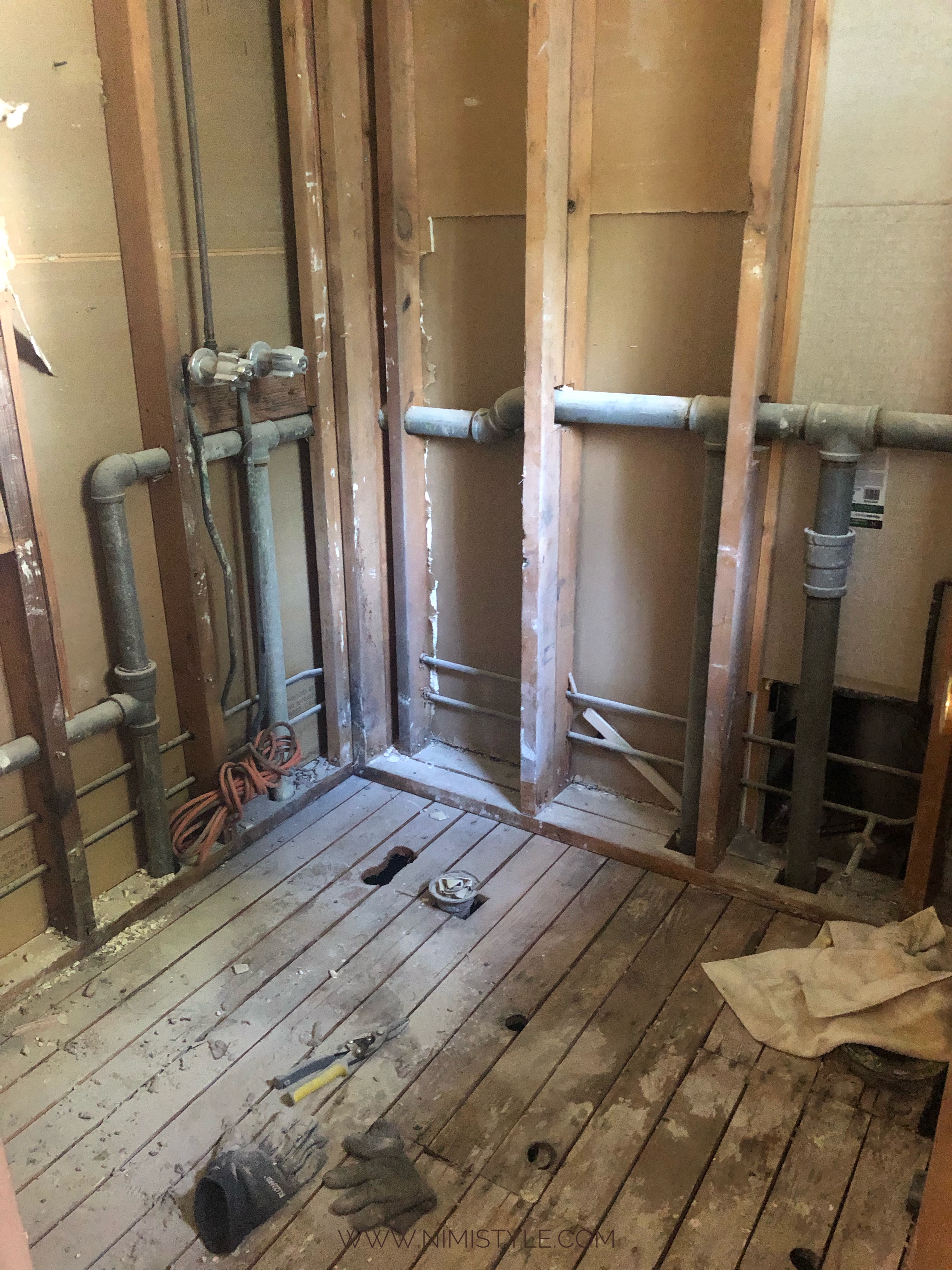 For week 1 we've got the bathroom demoed and all the extremely heavy trash bags have been taken by our so very kind garbage men who deal with our constant reno garbage with such patience and kindness.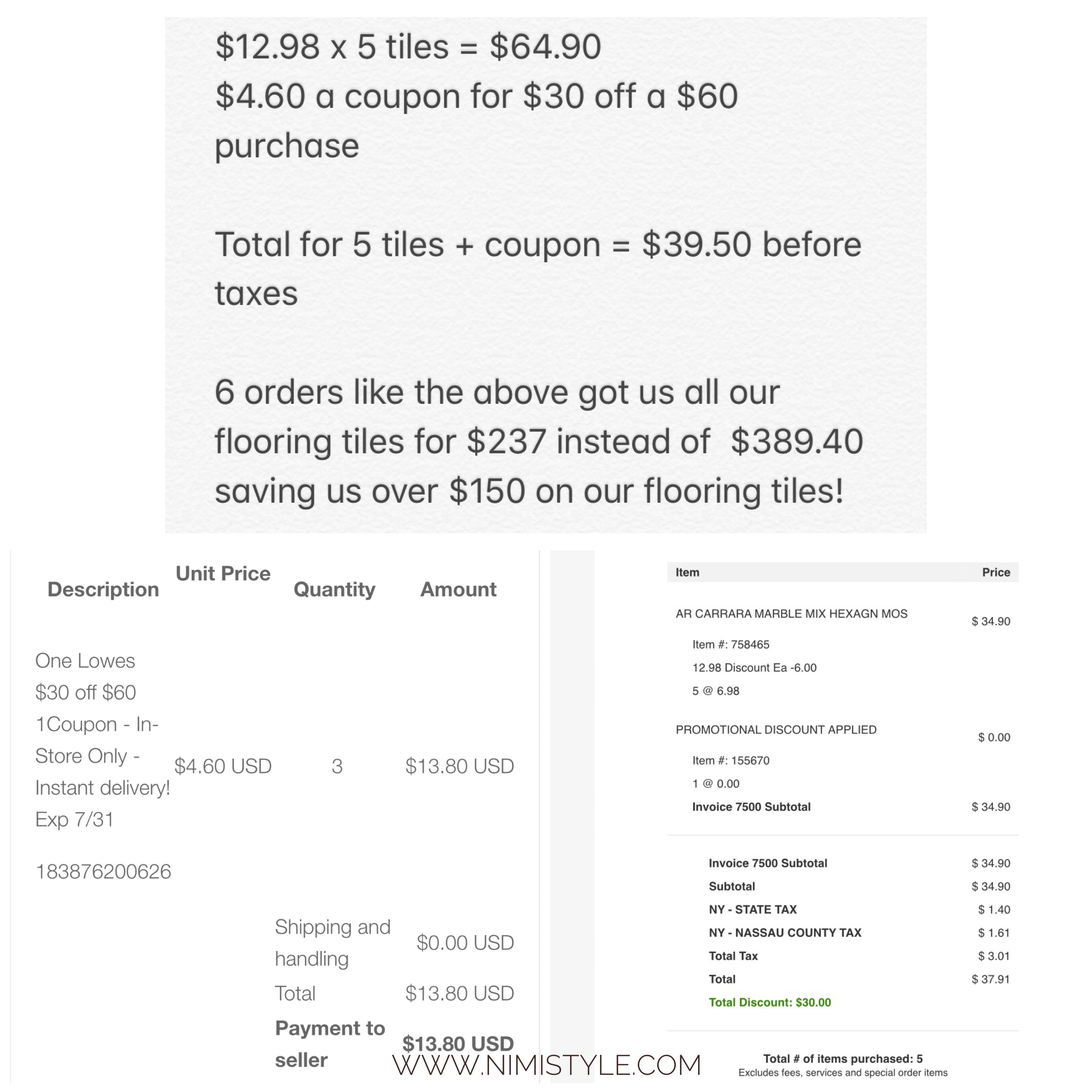 We also went tile shopping and came home with the floor tiles which I'm so excited about because we got such a great deal by using coupons. Did you know you can buy coupons for stores such as Lowe's and then apply it to your purchase. We saved a little over $150 on our floor tiles and it just made my day!
Now the boring behind the scene snaffu. The plumbing in this bathroom is ancient and needs to be redone just like the rest of bathrooms needed. The issue is with the shower drain which it seems like we'll need to access from below, which means opening up our formal living room ceiling. We're calling the professionals to see if they can tackle this for us without going through the bottom. If not hubby will be figuring it out. Let's see what next week brings.
Along with us there are so many amazing DIYers sharing their projects on the One Room Challenge site. Click the image below to see their projects!
If you liked this post, I'd love for you to share it!